Best 5 Xterra Rowing Machines & Parts To Buy In 2022 Reviews   
Are you thinking of buying an Xterra rowing machine?
Then you should read this article!
I wrote Xterra's rower reviews in this article. I went over technical specifications and main features of Xterra rower models. I also wrote about everything you need to know to decide which Xterra rowing machine is the best one for you.
So read on to find out more!
Xterra Rowing Machine Brand
Brand Behind Xterra Rowers
Xterra has been in the business of manufacturing exercise equipment for the past three decades. They offer the best craftsmanship and strive to make your workouts comfortable and effective. They also manufacture treadmills, elliptical, exercise bikes, and recumbent steppers.
The Price Range Of Xterra Rowing Machines
Xterra rower models go from very affordable to mid-range prices. The Xterra brand offers something for everyone's budget. For those prices, you get quality products that will help you reach your fitness goals.
Where To Buy Xterra Rower Models?
You can buy Xterra rowing machines in various offline and online stores. You can find them on the Xterra website, but you can also find them at online retailers such as Amazon. I recommend the Amazon option, just because you can compare the prices directly on there. Amazon also offers frequent discounts.
Warranty On Xterra Home Rowers
The warranty is short for certain cheap models such as the ERG200 where you get a 1-year warranty on the frame and parts. ERG700 has a lifetime frame warranty and 5 on the parts, with a 1-year labor warranty. Others have a 5-year frame warranty and 1-2 years on the parts.
Xterra Customer Service
Xterra has an excellent customer support service. If you have any questions or problems, you can directly call Xterra's customer service department and they will help you. They can diagnose the problem over the phone and recommend a service company in your area.
Top 5 Xterra Rowing Machine Models Reviews
Xterra Fitness ERG200 Folding Magnetic Resistance Rower
Magnetic Resistance System
The Xterra ERG200 rower has magnetic resistance. It means that it uses a magnetic system that interacts with the metal flywheel. When the magnetic system goes closer to the flywheel, it slows it down and makes your resistance level greater.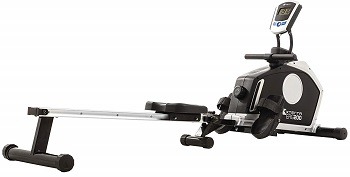 Eight Levels Of Resistance
Xterra ERG200 folding rowing machine has 8 levels of resistance for you to choose from. It's appropriate for exercisers at any level of fitness. You can conveniently access the dial knob because it's positioned right in front of you on the rower.
Large Computer Display
Xterra Fitness ERG200 rower comes with a large LCD monitor that's easy to see and use. The monitor of this Xterra rowing machine tracks calories, elapsed time, stroke count, total count, and scan. You can also adjust the angle easily so it helps you see your stats in any position.
Other Features For Efficient Workouts
This ERG2000 rowing machine comes with adjustable pivoting pedals and a large contoured seat. They offer maximum comfort and efficient performance. The row handle is padded so you can comfortably row for longer periods. The Xterra rower also has the Hight RPM flywheel that gives you enough resistance so it mimics real rowing.
Easy Folding For Storage And Dimensions
The ERG200 rower can be easily folded and stored in the desired place when not in use. It has built-in transport wheels so you can wheel it off with no problems. The dimensions of this Xterra ERG200 rower are 72" L x 20.7″ W x 31.5″ H and it can carry up to 250lbs.
Why Should You Buy This Product:
silent magnetic resistance
large computer display
affordable rowing machine for any budget
foldable for easy storage
Xterra Fitness ERG600W Water Rower
Xterra Water Rower Resistance
Xterra ERG600W water rower uses impeller motion in the water to create resistance. This gives you the exact same feel and sound of rowing on water. The water resistance gives you a uniform rowing stroke that's also very smooth in execution. It also gives you a thorough full-body workout.
Six Levels Of Resistance
Xterra Fitness ERG600W water rower has 6 levels of resistance for variability during exercise. It's also suited for beginners as is for advanced exercisers. You create resistance by filling the water tank with water. The more water you pour in, the greater the resistance.
Large LCD Computer Display For Monitoring data
A large LCD monitor is one of the great features of the Xterra Fitness ERG600W water rower. It tracks all the important data you need to progress efficiently. The monitor clearly displays time, distance, strokes, 500m time, strokes per minute, calories, room temperature, and clock. It also has modes that you can program.
Other Features Of The Xterra Rowing Machine
The frame made out of steel and dual aluminum rails are what give you the smooth rowing motion. The water tank is pressure tested so it gives you continuous dependable workouts. The Xterra Fitness ERG600W water rower has easily adjustable pedals, a raised seat, and an ergonomically designed handle.
Programmable Modes And Dimensions
You can program special modes on your computer display. You can race against the computer. You can also program a calorie countdown, stroke countdown, time countdown or a distance countdown. This Xterra water rower's dimensions are 80.7" L x 22" W x 33" H and the maximum weight it can carry is 300lbs.
Why Should You Buy This Product:
6 levels of water rowing resistance
feels like real water rowing
programmable computer modes
smooth rowing experience
durable steel frame
Xterra Fitness ERG400 Air & Magnetic Resistance Rower
Combination Of Air And Magnetic Resistance
Xterra ERG400 rower brings you the best of both worlds. It's quieter than a pure air rower because the magnetic resistance makes the flywheel spin a bit slower. The magnetic resistance works by setting resistance and having the magnets interact with the flywheel. While the air resistance increases the faster you row.
Sixteen Levels Of Resistance
This Xterra rowing machine has 16 levels of resistance for any fitness level. The resistance is mostly magnetic but with an added air resistance to make the workouts especially challenging. If you're working out at lower levels, you will mostly feel air resistance. That is until you adjust the magnetic resistance.
Displaying Data While Working Out
Xterra ERG400 rowing machine has an LCD monitor where you can track and see all your workout stats. The console is adjustable and very easy to read. It monitors stroke count, elapsed time, distance, strokes per minute, calories and watts. Watts is the power output during workouts.
Build Quality And Other Features
The rails are aluminum and have steel supports for a strong frame. The foot pedals can pivot so you can safely perform a full rowing motion. The seat is large and contoured so it provides you maximum comfort during your workouts. The handle is padded and ergonomically designed for efficient workouts.
Easy Folding For Storage And Dimensions
This is a foldable rowing machine which makes it very practical. When not in use, just fold the rail upwards and transport the rower on wheels to wherever you need it. The Xterra ERG400 rowing machine has dimensions of 72" L x 19″ W x 33″ H. The maximum weight it can carry is 250lbs.
Why Should You Buy This Product:
combined air and magnetic resistance
smooth and quiet performance
sixteen levels of resistance
easily folded and stored
Xterra Fitness ERG500 Air Turbine Rower
Resistance Through Air Turbine
Air rowers closely mimic the feel of rowing on water. The Xterra ERG500 air turbine rower uses wind or air to create resistance. You yourself create that resistance while pulling the handle and activating the fan flywheel. This type of resistance means that you feel more resistance the faster you row.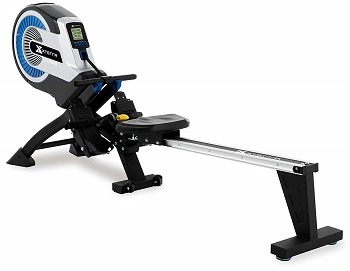 Eight Resistance Levels For Easy Adjustment
The Xterra ERG500 air turbine rower has 8 resistance levels that tune into your fitness level and resistance need. The easily reachable adjustment lever regulates the turbine airflow. This way, you can easily adjust your level of resistance during your workout on the Xterra rowing machine.
Computer Console For Feedback
The computer monitor of this Xterra rower has easily visible buttons. You can also easily pivot/move the entire monitor for easy access to view the tracking numbers. The ERG500 monitor tracks calories, pulse, distance, time, strokes per minute and count. It also shows you a stroke display graphic.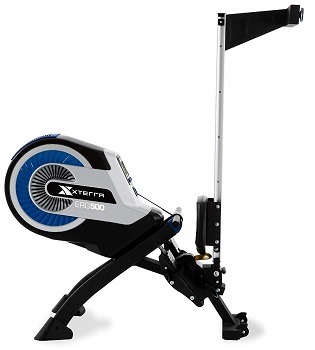 Other Features And Build Materials
To limit the flexing of the frame, the Xterra rowing machine has a steel frame and dual aluminum rails for a smooth workout. The large padded seat and handle provide you comfort during your workout. The foot pedals of the Xterra ERG500 air turbine rower can pivot so you can keep proper form.
Easy Storage And Dimensions
This is also a collapsible rowing machine. You can easily fold it by moving the rail upwards. You can then wheel it into a place where you want to keep it while you're not using it. It's really compact while folded and not in use and doesn't take much room. Dimensions are 72″ L x 19″ W x 33″ H and the maximum weight it can carry is 300lbs.
Why Should You Buy This Product:
air turbine resistance for demanding exercise
eight resistance levels
foldable for easy storage
Xterra Fitness ERG700 Rower
Air And Magnetic Resistance
Xterra Fitness ERG700 rower uses the same type of resistance as the ERG400 rower. It's a combination of air and magnetic resistance so you get the best of both worlds. Smooth rowing motion from the air resistance and an additional quiet multi-level magnetic resistance that makes your workouts challenging and rewarding.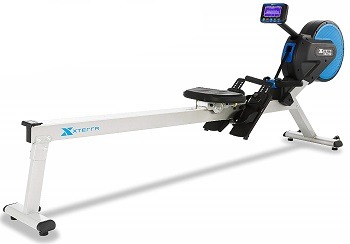 Sixteen Resistance Levels
Up to 16 resistance levels are what make this Xterra rowing machine so versatile and powerful. You can easily change the level of resistance by how hard you row and how much air you let into the flywheel. And then, additionally, you can set a resistance level that will move the magnetic system closer or farther away from the flywheel.
Measuring Data With The Computer Display
To track the data important for your workouts, the Xterra rower has a monitor that does that for you. It's backlit bright blue for maximum visibility. It tracks exercise statistics such as distance, time, strokes per minute, heart rate, calories, count, watts and level. It also offers 10 variable programs you can use.
Other Important Features
The Xterra Fitness ERG700 rower has a height of the aluminum rail at 17'', so you can get on and off easily. The seat of this Xterra rowing machine is padded and contoured, while the pivoting pedal helps you maintain proper form while exercising. The rower is also easily foldable.
Ten Program Modes And Dimension
This home rower includes up to 10 programmable modes. This way, you can work out in fat burn mode, cardio, strength, game, 20/10 interval, 10/20 interval. It also has modes for distance, calories and time. The dimensions of this Xterra rowing machine are 97″ L X 18″ W x 38″ H and maximum supported weight is 350lbs.
Why Should You Buy This Product:
10 programmable modes
16 resistance levels
air and magnetic resistance for a great workout
high maximum user weight
Xterra Rowing Machine Parts
Where To Find Replacement Parts
All replacement parts are free when covered under warranty. When your warranty expires, you can order the parts online directly on the Xterra Fitness website. If you can't find your needed replacement part on there, try looking on Amazon. You can find Xterra ERG400 rower parts, ERG700 and ERG500 parts and parts of many other rowers.
Conclusion: Why Should You Buy Xterra Rowing Machine?
Xterra ERG200 rower is a quiet and affordable Xterra rowing machine model. Xterra Fitness ERG600W water rower gives you true rowing on water feel. ERG400 and ERG700 are hybrid Xterra rower models that offer the best of both worlds. And ERG500 gives you a great full-body workout.
In case you want to find out more about affordable rowing machines, we have this article on best value rowing machine models on the market. We also wrote about the best rowing machine for home use in this best rated rowing machine article. There is also an article about best portable rowing machines.