Top 5 Portable Rowing Machines On The Market In 2022 Reviews
Are you looking for a portable rowing machine?
Then look no further!
In this article, I review the 5 best portable rower models currently available on the market. I go over their main features and specifications. I write about everything you need to know so you can decide which rowing machine is the right one for you.
Things You Need To Know Before Buying A Portable Rower
Why Buy A Portable Machine?
Maybe you need to move the machine every day because you're using the space for other things besides working out. Or you want to store it out of sight. Or even if you have to go on a trip and want to pack the machine in the car. There are many rowers that offer easy ways to do just that.
What To Look For In a Rower?
If you want to move our rower every time you're done working out, it's good to watch out for portability. Two things that you have to look for: wheel and lightness. If the rower has wheels, chances are it can be transported with no hassle. Or if the machine is very light, you can easily pick it up and move it.
What Is The Price Range?
The most expensive potable exercise machine in this review is the First Degree Newport AR water rower. Pricewise it's in the high range while the rest of the rowers hover around the mid-range. The most budget-friendly rower is the Sunny Magnetic Rowing Machine.
Where To Buy These Rowing Machines?
You can find all of the machines on their respective websites. There is also the option of buying them from online retailers, such as Amazon. I recommend Amazon because they have discounts very often. You can also compare prices directly on there and even read other reviews to help you decide.
Which Type Of Portable Rower Should You Buy?
Whether you're going to buy a rower depends also on your preferences for the resistance system. If you want a rower that you can pick up by yourself, hydraulic resistance is the best for you. Or if you want a water rower but are afraid it's too unwieldy, look for rollers so you can move it.
Top 5 Portable Rowing Machine Models
Best Foldable Portable Rowing Machine
Stamina X Portable Air Rower
Air Resistance For Intense Workouts
Air resistance works on a similar principle as water resistance, just with air. The fan flywheel sucks in air and that creates the resistance. This Stamina rowing machine has no resistance levels because everything depends on the intensity of your rowing. The faster you row; the more resistance you feel.
Easily Readable Performance Monitor
This Stamina monitor tracks all the metrics that you need to have a quality workout. It monitors distance rower, a rough estimate of burned calories, total strokes and speed. It also tracks the number of strokes you make per minute. The monitor is easy to read and easy to use.
Construction Quality And Workout Comfort
The frame is made out of steel and is of high quality and very sturdy. The maximum user weight it can handle is 250lbs. The rowing strap is also designed and made to be durable and it can withstand your toughest workouts. The seat is comfortable and padded and the footplates are textured with an adjustable strap.
Transportation Wheels For Portability
You can easily fold this rowing machine so it's easier to move. Just fold the front part of the rower with the fan flywheel towards the rail. Then move the entire exercise machine with the built-in transport rollers that make it very easy for you. The dimensions of the rower while in use are 78'' L x 18'' W x 29'' H.
Warranty Period For The Air X Rower
The warranty is all right for an air rower in this price range. It covers your frame for 3 years while it covers all the other components for 3 months. In turn, you get a quality rowing machine that is simple to use and gives you a thorough full-body workout.
Characteristics:
quality build and durable design
ergonomic parts for comfortable workouts
transportation wheels for portability
Best Compact Portable Rowing Machine
Kettler Favorit Rowing Machine
Hydraulic-Piston Resistance With 50 Levels
This rowing machine uses hydraulic-piston resistance. It moves the hydraulic fluid through an opening from one chamber into the next. This way, it creates resistance for your rowing. This model offers 50 resistance levels to choose from. The Kettler Favorit is suitable for many fitness levels and low impact.
Performance Monitor To Track Workout Data
You're able to track all your necessary workout data with this multi-functional electronic monitor. It monitors your distance, elapsed time, strokes, frequency, pulse rate, and calories burned. The monitor shows you all 6 metrics at the same time. It's a simple device but it gets the job done.
Durable Construction And Ergonomic Design For Comfort
The Kettler Favorit rowing machine has a high-carbon steel frame. It's a durable and sturdy rower and can support the weight of up to 285lbs. It has a padded and molded seat for maximum comfort during your workouts and arms that span the full range of a rowing motion and mimic water rowing.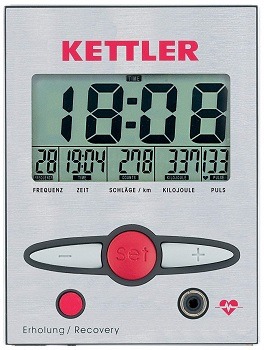 Portable Rower And Its Dimensions
This Kettler rowing machine is a lightweight rower. It weighs 52lbs and is very compact. You can easily pick it up and move it to wherever you want because of that. It's simple to store and the dimensions of the rowing machine are 51'' L x 15'' W x 9'' H.
Warranty Period For The Rower
The exercise machine has an excellent warranty that shows Kettler's confidence in its performance. It has a lifetime warranty for the frame and 3-years for the components. With other rowers in that price range, the Favorit is backed by a really good warranty period.
Characteristics:
compact and suitable for small living spaces
mimics complete rowing motion on water
lightweight and very easy to move
50 resistance levels to challenge you
Best Cheap Portable Rowing Machine
Sunny Magnetic Rowing Machine RW-5515
Eight Levels Of Quiet Magnetic Resistance
This Sunny rowing machine uses magnets to create resistance by interacting with the metal flywheel. The proximity of the magnetic structure influences the feeling of resistance. If the magnet is closer to the flywheel, the resistance felt is greater and vice versa. You can choose between 8 levels for a great workout.
Digital Performance Monitor For Tracking Metrics
The LCD monitor can track all your important stats so you can have an effective workout. The Sunny Magnetic Rowing Machine monitors your count, elapsed time, total row count, estimated calories burned and scan. The scan option is good for showing you every metric on a loop while you exercise.
Construction Materials And Ergonomic Design
The slide rail is very sturdy and made out of steel and can accommodate weights of up to 250lbs. It's also designed for comfortable workouts with its fully padded seat so you can work out for longer periods of time. It also has large pedals with a non-slip surface and adjustable straps.
Portable and Easy To Store
This is a portable rowing machine that can be folded. You fold the rail vertically and then you can use the built-in rollers to move the rower around. It's space-saving and very mobile because of its design. It takes up little space to begin with, with dimensions of 82'' L x 19'' W x 23'' H.
Warranty Life Of The Rowing Machine
The Sunny rower has a warranty life on the frame for a 3-year period. Other components that easily wear out are under a 6-month warranty. It's comparable to other rowers in this price range. This is one of the first affordable magnetic rowers on the market that comes with a solid warranty.
Characteristics:
Foldable design for easy transport
8 levels of magnetic resistance
Ergonomic design for comfortable workouts
Best Portable Water Rower
First Degree Fitness Newport AR Rower Water Rower
Water Rower With Adjustable Resistance Levels
This First Degree Fitness rower uses paddles suspended in a tank to create resistance with the water. The paddles have to displace the water that's in front of it and this is similar to how air rowers work. It has a dual chamber that allows you to adjust the resistance by controlling how much water the active chamber gets.
Multi-functional Performance Monitor With USB Port
This water rower has a multilevel performance monitor that tracks all your important stats. It tracks and displays elapsed time, strokes per minute and calories burned per hour. It also tracks your distance, 500m split time and heart rate. They don't offer a heart rate monitoring strap with the rower though.
Construction Quality And Comfortable Workouts
The seat rail is made out of anodized aluminum of the highest quality and with a steel frame. It can withstand even your toughest workouts and will last you for many years of use. It can carry up to 300lbs. It also has an ergonomic handle that doesn't strain your hands and a comfortable seat.
Portable Water Rower For Easy Storage
Even though this Life Fitness water rower isn't foldable, it can be easily moved. You grab the rear part of the rail and lift it up vertically. This way it turns into a space-saving exercise machine that can be easily moved with the built-in rollers. The dimensions of the rower are 78'' L x 21'' W x 20'' H.
Warranty Period For The Water Rower
The First Degree rower has a pretty solid warranty. The frame has a warranty of 5 years, while the tanks and seals have 3 years. The mechanical components that don't wear out have 2-years while the components that do wear out have only 1 year.
Characteristics:
dual-chamber technology for resistance levels
portable on built-in rollers
solid warranty period on parts and frame
sturdy and durable construction
Best Home Portable Rowing Machine
Marcy Foldable Magnetic Rowing Machine
Eight Levels Of Magnetic Resistance
The Marcy rower is a very quiet rowing machine with smooth rowing strokes. It has magnets that react to the metal flywheel and create resistance through that interaction. The exercise machine has 8 levels to choose from, from lightest to toughest. It's suitable for exercisers of all fitness levels.
Multi-angle Performance Monitor For Metrics
This portable rowing machine has an LCD monitor that tracks all your workout data. It monitors metrics such as count, total count, elapsed time, calories burned and a "scan" option. The monitor is easily readable and can be folded both backward and forwards so you can easily adjust it.
Build Quality And Ergonomic Design
The rower has an all right quality for its price range. The frame is sturdy enough to support you through your workouts. The maximum user weight it can carry is 300lbs. The seat is contoured and padded for comfortable exercise and the handles are covered in foam.
Foldable Design And Portability
This is a portable rower that can be easily folded. You just use the quick release pin and fold the rail towards the front part of the machine. Then you can just use the rollers and move the rower to any place you like. The dimensions of the rower in use are 74'' L x 20'' W x 32'' H.
Warranty Time Of The Magnetic Rower
The Marcy Magnetic Rowing Machine is backed by a good warranty. The frame is under a 2-year warranty while all the other components have a 1-year warranty. In turn, you get an affordable but solid rowing machine that will give you a great whole-body workout.
Characteristics:
8 levels of quiet magnetic resistance
portable for easy transport
readable monitor with important metrics
ergonomic design for comfortable workouts
backed by a solid warranty period
Conclusion: Which Two Best Portable Rowing Machine Models Should You Buy
Kettler Favorit Rowing Machine and Stamina X Portable Air Rower seem to be the best portable rowing machine models currently on the market. The Kettler Favorit is a compact and lightweight, easily portable rower that you can pick up and carry. The Stamina X rower is foldable and has rollers to help you move it.
If you want to find out more about compact rowers, we wrote an article about best foldable rowing machine models. Read this review on best rowing machines you can buy if you want to know more about other portable rowers. We also have this article on best rowing machines for home use.