Best 5 Quiet Rowing Machines You Can Buy In 2022 Reviews
If you want a quiet rowing machine, look no further!
In this article, I review 5 rowing machines known for being quiet while giving you an excellent workout. I write about their main features and technical specifications that you should know before purchase. I also go over everything else you need to know so you can decide which rower is for you.
Things You Need To Know When Buying A Quiet Rowing Machine
Why Buy A Quiet Exercise Machine?
The main reason why you would want a silent rower is because of other people who share a living space with you. Whether that's because you live in an apartment building with thin walls or if you want to work out early in the morning. It's very inconvenient to start rowing while everyone is still asleep.
What To Look For In A Rowing Machine?
The important thing here is to look for the resistance type because that's what gives the rower a high noise level. Air resistance rowers produce the most noise and are because of That a bad choice here. The quietest rowing machines are usually with magnetic resistance, but there are some other types too.
Price Range Of Quiet Exercise Rowers
I cover a wide range of prices in this review. The Sunny RW1205 model is the most budget-friendly for a quite affordable price. The most expensive rower model on this list is the Waterrower Club in Ashwood. The rest of the rowers are pretty affordable and on the cheap side.
Where To Buy These Exercise Products?
Each model covered here has its own company website where you can buy them. You can also get them from online retailers, such as Amazon. I personally recommend Amazon because it has great discounts on regular. You can also compare model prices directly on there.
Which Rowing Machine Type To Buy?
This also depends on your preference for exercise machines with certain resistance systems. You can still have a water rower because it's much more silent than the air rower. There also exist hydraulic-piston resistance machines that are pretty quiet. But they do heat up fast and tend to wear out over time.
Best 5 Quiet Rowing Machine Models
Best Home Quiet Rowing Machine
Harvil Magnetic Rowing Machine
Eight Levels Of Magnetic Resistance
This Harvil rowing machine uses magnets to create resistance. The C-shaped magnet interacts with the metal flywheel and you feel resistance depending on its position. So if the magnet is closer to the flywheel, the resistance is stronger and vice versa. This rower has 8 levels of resistance to choose from.
LCD Performance Monitor For Tracking Metrics
The Harvil Magnetic Rowing Machine is equipped with an easy to read monitor. The monitor tracks some important data points you need to be able to progress smoothly. It tracks row counts, elapsed time, distance rowed and an estimated caloric deficit. It also has a scan mode that shows metrics interchangeably.
Designed For Comfort And Very Silent
This is a very silent rower and you can use it without disturbing anyone. Rowers with only magnetic resistance are some of the quietest machines around. The nylon rowing strap adds to the quiet performance. The ergonomically designed seat and handlebar give you a comfortable workout.
Foldable For Easy Storage And Strong Build
This is a foldable rowing machine that's easy to store because of that. You just lift the rail vertically and this frees up space for easier storage. After that, you use the built-in rollers to move it. This quiet rowing machine has an aluminum rail and maximum weight capacity of up to 264lbs.
Warranty Time For This Rowing Machine
The exercise machine is shipped to your door without any damage, otherwise, Harvil replaces it at no cost. The warranty period is only 180 days, so this could be much better. During that time, they will fix and replace all of the defective parts. In case you're still not satisfied, you can get a full refund.
Why Buy This Product:
very quiet magnetic resistance
designed with comfort in mind
foldable for easy storage and transportation
Best Water Quiet Rower Model
WaterRower Club Rowing Machine in Ash Wood
Water Resistance For Quiet Rowing
The WaterRower rowing machine works similarly to air rowers but the noise level is significantly lower. It uses pedals suspended in a water tank to create resistance by displacing the water in front of it. It doesn't have any resistance levels because the intensity depends on how fast you're rowing.
WaterRower Series 4 Performance Monitor
The WaterRower Club rower has a state-of-the-art series, 4 performance monitor. It monitors all the basic data like distance, time, calories burned and stroke count. Besides those metrics, it also has various advanced settings so you can make the most out of your workout sessions.
Quiet Rower For Comfortable Workouts
This Waterrower model has a very quiet water resistance system. The water moving inside the tank is muffled and some people find the faint sound meditative. The ergonomically designed seat and handlebar provide you with a comfortable workout. The footplates are large and the straps adjustable.
Easy Storage And Construction Quality
The WaterRower Club can be easily stored and transported thanks to its built-in rollers. You have to grab the rear part of the rower and position it vertically. The frame is handcrafted with premium Ashwood that's known to absorb vibrations and sound. The maximum user weight is up to 1000lbs.
Warranty Period For The Waterrower
The warranty period is very short given the price range, only 1 year on the entire rower. But there is the option of prolonging the time if you register your product online. You have to do it within the first year after purchase. You get a 5-year warranty for the frame and 3-year for the components.
Why Buy This Product:
quiet water rowing resistance
smooth and uniform rowing strokes
supports a high user weight
strong and durable build
easy to store and transport
Best Portable Quiet Rowing Machine
Sunny Health & Fitness Rower RW1205
Twelve Levels Of Hydraulic Resistance
This Sunny rowing machine uses hydraulic resistance for your workouts. Meaning It uses a hydraulic piston that has hydraulic fluid passing between chambers. The smaller the opening the fluid has to pass through, the bigger the resistance. You can choose between 12 levels of resistance.
Basic Digital Monitor For Your Metrics
The RW1205 has an ok monitor that tracks all the metrics that help you in becoming a better rower. It monitors elapsed time, total row count, row count of the current session and calories burned. It also has a "scan" function that shows you each metric on display for a few seconds at regular intervals.
Very Silent Rower And Technical Specifications
Since the rower uses hydraulic resistance, it's very quiet. From the noise, it produces it would be right behind the magnetic rower. But those rowers sometimes wear out and start to squeak if you don't use oil on the joints. The seat is cushioned and the handlebars are padded with foam.
Small Footprint And Build Quality
This exercise machine is space-saving and already has a small footprint. While you can't fold it, you don't have to. The weight of the rower is pretty lightweight and you can move it easily. It has a steel frame and is very stable, supporting a maximum weight of 220lbs.
Warranty For The Hydraulic Rower
The warranty got better lately which is a great improvement. Before you got 1 year for the frame and 90 days for the parts. Since the upgrade, the frame has a 3-year warranty and all the parts and components have a 6-month warranty. So it's pretty solid and you get a quality machine for it.
Why Buy This Product:
12 levels of quiet hydraulic resistance
compact and space-saving design
lightweight for easy transport
Best Folding Quiet Rowing machine
Xterra Fitness ERG200 Rowing Machine
Eight Levels Of Magnetic Resistance
The Xterra ERG200 Rower has magnetic resistance that gives you a good whole body workout. It's a very quiet rowing machine that uses a magnet going closer or farther away from the flywheel. This, in turn, creates stronger or lighter resistance. You have a choice between 8 levels of resistance.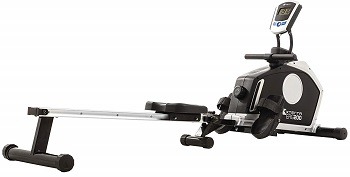 Easy To Read Computer Monitor
This very quiet rowing machine has a large LCD performance monitor. It tracks stroke count, elapsed time, calories burned and total count. It also has the "scan" option that repeats a metric for a few seconds on the monitor, and then it shows you the next one.
Quiet Rower And Its Specifications
Since this is a magnetic resistance rower, it offers very quiet performance. You can barely hear it while you work out. This Xterra rower is also designed for comfort during rowing. The seat is large and contoured while the rowing handle is padded for a comfortable grip.
Build Quality And Foldable Design
The dual rails are made out of aluminum and provide you extra stability while the frame itself is made out of steel. The rower can support a maximum user weight of up to 250lbs. This rower is compact and the rail can be folded vertically. The built-in rollers enable you to transport it easily.
Warranty Time For The Xterra Rower
The warranty period is relatively short and not that impressive. You get 1 year for the structural frame and 1 year for the other components. Compared to other rowers from this list, it's not that good, but you can still get a pretty affordable rower that has solid features.
Why Buy This Product:
very quiet magnetic resistance
8 different levels to choose from
monitor that's easy to read
ergonomic design for comfort
Best Cheap Quiet Rowing Machine
Stamina Body Trac Glider 1050 Rowing Machine
Hydraulic-Piston Resistance With 12 Levels
This is another rowing machine that uses hydraulic-piston resistance. The hydraulic fluid inside the first chamber goes through an opening into the second. The resistance depends on the size of the opening through which the fluid is passing. This Body Trac 1050 also has 12 resistance levels to challenge you.
Performance Monitor To Track Workout Metrics
This LCD monitor can track all the important metrics for great exercise. It monitors your time, stroke count, a rough estimate of burned calories and your total accumulated strokes. It has a scan mode that cycles through all of the metrics in a few second periods so you can see everything.
Quiet Performance And Technical Specifications
Since the resistance is hydraulic, the performance is pretty quiet, right after a magnetic rower. You won't have to worry that you will wake up someone or bother your neighbors. The molded seat has an ergonomic design and the handles are foam-padded for comfort.
Durable Construction And Easy To Store
The Body Trac rowing machine has a steel frame and an aluminum rail. It's a pretty durable piece of equipment and can support a maximum user weight of up to 250lbs. The rower is very light and can be transported anywhere you want. There is no need for rollers because it weighs only 39lbs and can be carried easily.
Warranty Period For The Rower
The Stamina Body Trac Glider has a warranty that is adequate for a rowing machine in this price range. The structural frame has a 1-year warranty, while other parts only have 3 months. You might be asked to send the rower to Stamina if something breaks and it's still under the limited warranty.
Why Buy This Product:
very affordable price
12 hydraulic resistance levels
quiet performance so you won't disturb anyone
Conclusion: Which Two Best Quiet Rowing Machines Should You Buy?
Harvil Magnetic Rowing Machine and Sunny RW1205 Rower are probably the best quiet rowing machine models in my opinion. Harvil is a super silent rower that has 8 resistance levels. Sunny RW1205 is also pretty quiet with its hydraulic resistance and has a compact design.
If you want to know about other best home rowers on the market or find more about current top rowers, read this article on best-rated rowing machine models. There is also an article we wrote about best compact rowing machine models. For foldable rowing machines, check out this best folding rowing machine article.