Best 5 Incline Row Machines For The Money In 2022 Reviews
If you're looking for an incline row machine, this is the article for you!
In this article, I review 5 best incline rowers currently available on the market. In order for you to decide which one is the right one for you, I mention everything you need to know. I write about their design, technical specifications, and features. I also write about their price range and where you can buy them.
What You Need To Know Before Buying An Incline Row Machine
Why Buy An Incline Rowing Machine?
These are great exercise machines if you're looking for an extra challenge while you work out. If the resistance offered by regularly positioned rowing beams isn't enough for you, consider rails that are set on an incline. You will get a pretty intense workout that will leave you stronger and more fit.
Incline Rowing Machine Benefits
Since the rail is set on an incline, you can have more intense workouts that will challenge you. It will take more effort for your legs to bring you to the starting position. This, in turn, will strengthen the muscles of your lower body and will bring you into top shape.
Prince Range Of These Rowing Machines
The prices vary from pretty affordable to the quite pricey ones that are an investment. The most expensive rower is the Total Gym Incline Rower CE that gives you a really great workout. The rest of the rowers are pretty budget-friendly and won't break the bank.
Where To Buy The Exercise Rowers?
The rowing machines are readily available on their respective official websites. But they can also be found at online retail sites like Amazon. I personally recommend the Amazon option because they often offer discounts. You can also compare prices directly on the site and see what other reviewers are saying.
What To Look For In The Incline Rowers?
The incline of the rower rail doesn't have to be steep for you to reap all the strength benefits. Some rowers have a slight incline and still work all your muscles with the specific type of resistance. There are water, hydraulic, magnetic and air resistance types and each one of them adds to the incline section.
5 Best Incline Row Machine Models
Best Commercial Incline Rowing Machine
Total Gym Incline Rower CE
Two Incline Resistance Settings
This Total Gym Incline Rower doesn't have any of the 4 main resistance types that rowers usually have. What it does have is the adjustable rowing rail that can be changed into 2 incline positions. Based on how much of a challenge you need, you can choose between an incline that uses 20% or 17% of your body weight.
Performance Monitor For Tracking
This incline row machine is equipped with a very practical monitor that can track all the important stats. It monitors elapsed time, estimated caloric burn, distance rowed and the number of strokes. The monitor is divided into sections and you can see all your metrics at one glance.
Construction Quality And Comfort
The exercise rower has a strong and resistant steel frame that is also suitable for commercial use. The dual aluminum beam is coated with steel and can safely carry the maximum user weight of 400lbs. It has a comfortable seat and has an option to add up to 15lbs of band resistance.
Foldable For Easy Storage And Dimensions
The Incline Rower CE can be easily folded when you're not using it. It doesn't take much space and you can just store it upright against a wall or in a closet. It's also fairly easy to move it since it has built-in wheels, but it's also lightweight and can be picked up. The dimensions are 98" L x 23" W x 30'' H.
Warranty Period Of the Incline Rower CE
Total Gym has this rowing machine under a commercial warranty that lasts 5 years for the frame. All the other components have a warranty of 1 year while the rubber also gets a warranty of 1 year. Keep in mind the warranty doesn't cover any defects or damages that result from improper use.
Why Buy This Product:
2 bodyweight-only resistance levels
foldable and easy to store
sturdy and durable frame construction
can add a band for more resistance
large and easily readable performance monitor
Other Version Of Incline Rower CE
Total Gym Incline Rower CE In Black
The rowing machine also comes in black, aside from the silver that I reviewed. Every other technical specification, design of the rower and features are the same. The only difference is you can switch colors if you prefer your exercise equipment black.
Best Cheap Incline Rowing Machine
Sunny Health & Fitness Incline Slide Rower
Five Bodyweight Resistance Levels
This incline slide rower has 5 incline positions that you can set to challenge yourself to the maximum. Depending on your fitness level, you can really work your quads with variable positions. You're also working your arms with rowing arms that mimic the full rowing motion.
LCD Performance Monitor For Tracking
The Sunny Incline Slide Rower comes with a simple but effective monitor that shows you all the important stats. It monitors basic metrics like elapsed time, calories burned, the total count of rowing strokes and reps per minute. There is also a tablet holder so you can work out while watching your favorite shows.
Construction Quality And Comfort While Rowing
Sunny Health and Fitness are known for its quality and durable products that you can use for years to come. The maximum user weight it can carry is 350lbs. The foot pedals are large and have an adjustable strap while the seat is padded so you won't be aching in your longer workout sessions.
Collapsible Rowing Machine
This incline slide rower is pretty lightweight and you can carry it to where you want to. But that's only one option because the rower also has built-in rollers for transport. You can collapse the rowing machine completely flat for easy storage. The dimensions of the machine while in use are 55'' L x 22'' W x 18'' H.
Warranty Period Of The Exercise Rower
It has a solid warranty for its price range and is comparable to other similar rowers. You get a 3-year warranty on the structural frame, where all the repairs will be done by Sunny Health and Fitness. And then all the other components and parts get a 180-day warranty.
Why Buy This Product:
5 bodyweight resistance levels
collapsible and lightweight for easy storage
sturdy and durable frame construction
Best Foldable Incline Rowing Machine
Stamina ATS Air Rower
Air Resistance On An Incline
This Stamina rower uses a fan flywheel that takes in air and creates resistance this way. It doesn't have any resistance levels, the resistance changes with your rowing intensity. The rowing motion is quite natural and the slight incline of the rail gives you an added level of resistance.
Simple Workout Monitor For Metrics
You can track all your metrics on the Stamina ATS Air Rower's monitor. It shows you important stats that you can use to effectively progress in your workout routines. It tracks speed, distance rowed, elapsed time and estimated calories burned. The monitor is easy to read and large.
Construction Design And Comfort
This air rower has an oversized rowing rail that can support users of many heights and offers stability. The maximum user capacity of the rower is 250lbs and the frame is sturdy and durable. The padded seat is also upholstered and so is the rowing handle while the foot pedals are adjustable.
Foldable Design For Efficient Storage
You can fold this rowing machine by taking the rail part and moving it towards the fan flywheel section. This way you get a compact rower that's easy to store and saves space. It has rollers to help you move it and the dimensions of it while in use are 77'' L x 18'' W x 22'' H.
Warranty Period For The Stamina ATS
The company behind stamina puts its customers first and their satisfaction with the products is their top priority. And so they give you a 3-year structural frame warranty and all the other components and parts have a 1-year warranty. It's a pretty good warranty period for this powerful rowing machine.
Why Buy This Product:
variable air resistance for rowing
slight incline to challenge you further
practical performance monitor for metrics tracking
easy to fold and practical for storage
strong and sturdy construction
Best Compact Incline Rowing Machine
Xterra Fitness ERG200 Magnetic Rower
Eight Magnetic Resistance Levels On An Incline
This incline row machine uses a C-shaped magnet system that interacts with the metal flywheel to give you resistance. It has 8 resistance levels to choose from, depending on your fitness level and preference. The rail is also on a slight incline that gives you added resistance for your leg muscles.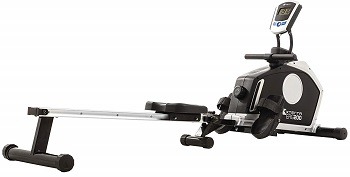 Large LCD Performance Monitor
The Xterra magnetic rower has a large LCD display that is easily readable and tracks important metrics. It shows you and tracks elapsed time, estimated calories burned, stroke count, total count, and scan. The scan option switches from one function to the other on a loop while you work out.
Construction Quality And Ergonomic Design
The extruded slide beam is dual and made out of durable aluminum so your seat glides effortlessly. The frame is made out of steel and can carry a maximum of 250lbs. It has a contoured seat that's large enough so it's comfortable and the row handle is padded.
Foldable Design For No-Hassle Storage
This is a rowing machine that is compact even during use with dimensions of 71'' L x 20'' W x 31'' H. But you also have the option of folding it for maximum space-saving capabilities. Just fold the rail part upright so it stands vertically and wheels it into place with the built-in rollers.
Warranty Period Of The Xterra Rower
Given that this is a pretty budget-friendly incline row machine, the warranty is pretty ok for the price range. You get a 1-year structural frame warranty and also 1-year for all the other components and parts. Xterra will repair all the damage that was caused by normal wear and tear.
Why Buy This Product:
8 magnetic resistance levels
slight rail incline to work your lower body
large performance monitor for metrics tracking
compact design that's easy to fold
Best Home Incline Rowing Machine
Merax Magnetic Exercise Rower
Magnetic Resistance With A Rail Incline
This is another magnetic resistance rower that has 8 resistance levels to choose from. The rail is set up at a 15-degree incline so you can work your quads in the most effective way. This rower is very quiet because of the resistance type but provides good exercise for your whole body.
LCD Monitor For Tracking Statistics
The Merax rowing machine comes with a basic monitor display that shows you your workout stats. It monitors and shows you elapsed time, calories burned, row count in this workout session and total row count. It's a pretty simple monitor but it gets the job done and helps you have effective workouts.
Build Quality And Comfortable Design
It has a sturdy monorail that can carry a maximum user weight of up to 264lbs. The seat is extra padded and upholstered so you can row for longer periods of time while being comfortable. The large foot pedals can accommodate users of all sizes and the straps are easily adjustable.
Compact And Foldable Design
Magnetic rowers are usually pretty compact exercise machines that don't take much space. But they can also be folded, like this Merax rowing machine so you can store it easily. The rail can be folded upright and then you can move the rower on the built-in rollers. Its dimensions are 73'' L x 16'' W x 21'' H.
Warranty Period Of The Merax Rower
The Merax magnetic rowing machine falls under a good warranty. The structural frame has 3 years while all the other components have a 180-day warranty period. The electronics also fall under the warranty of 180 days. It's a decent warranty and you can enjoy your rower without worrying.
Why Buy This Product:
8 adjustable magnetic resistance levels
15-degree seat rail incline for added resistance
compact and foldable design
Conclusion: Which 2 Best Incline Row Machine Models Should You Buy?
Total Gym Incline Rower CE and Stamina ATS Air Rower are in my opinion the best incline row machine models. The Incline Rower CE is a commercial grade, strong rower that has 2 resistance levels to challenge you. The Stamina ATS will build your body with a slight rail incline and an additional air resistance system.
We wrote about affordable rowing machines in this best value rowing machine model article. If you want to know more about space-saving rowers, we wrote about them in the best compact rowing machine article. We also have an article on water resistance rowing machines that are good to invest in.