Top 5 First Degree Fitness Rower & Rowing Machines Reviews
Are you interested in buying a First Degree fitness rower?
Then you should read this article!
Here I'm reviewing 5 First Degree rower models that are currently available on the market. I will compare their specifications and features. This way, it will be easier for you to decide which one is the best rowing machine for you.
So read on to find out more!
First Degree Fitness Brand
What is First Degree Fitness?
First Degree Fitness has been in the fitness equipment business for more than 15 years. After they launched their first fluid rower, they became known as one of the best creators of fluid rowing machines. They have rowers for many different settings and applications.
Price Range Of The Rowing Machines
First Degree rowers are more in the higher price range regarding their rowing machine models. Some commercial rowing machine models can go into a very high price range. But you can still invest in one of the pricier options if you can and want to do so.
Where Can You Buy The Rowers?
They are available on the First Degree Fitness website, but also at online retail websites like Amazon. I personally recommend Amazon because of the various benefits they offer. You can compare prices right on their site and see what other reviewers are saying. Besides that, they offer frequent discounts.
Warranty On The Water Rowers
First Degree Fitness offers quite a solid warranty, the frame has a 5-year warranty, while the polycarbonate tank and seals only have 3 years. Mechanical parts that don't get worn out easily have 2 years. And then you have only 1 year for parts that wear out easily.
Why Should You Buy From This Brand?
The brand's innovation is driven by user motivation. They recreate movements that we use every day and make exercise machines that recreate the cutting edge simulations in fitness. First Degree Fitness is offering guaranteed quality products that will help you fulfill all your fitness goals.
The Best 5 First Degree Rowing Machines Reviews
First Degree Fitness Newport Club Fluid Rower
Resistance Type Of The Fluid Rower
The First Degree Fitness Newport Club fluid rower is a water rowing machine, meaning the water tank has paddles that spin when you pull the handle. It's similar to air rowers in that the faster you pull the handle, the faster the paddles spin, thus creating more resistance. It basically just requires more energy of you to row faster.
Main Features Of The Rowing Machine
The pulley system is upgraded and it gives you constant tension while you row. The system increases the range of resistance. The rail is made out of anodized aluminum of the highest quality. The rail provides a smooth motion and is durable. The seat is very comfortable and running on precision bearings and seat rollers with very low friction.
Technical Specifications Of The Rower
First Degree Newport rower has an ergonomically designed handle that prevents strain on your arms, hands, and wrists. The paddle is made out of stainless steel and is triple-bladed, while the tank itself is made of a polycarbonate shell that's pretty tough. The water volume is variable between 9 and 17 liters.
Computer Monitor For Tracking Data
The monitor is a multi-performance one and it tracks a variety of data needed for successful workout progression. It measures distance, tank resistance level, 500m time, time, strokes per minute, calories and watts. Watts is the power output measured during exercise. It also measures your pulse, but for that, you need a heart rate monitor.
Dimensions And Easy Storage
While this is not a foldable rowing machine, you can store it quite easily nonetheless. Just grab the rear part of the fluid rower and lift it upright, so that the water tank is at the bottom. You can move it quite easily too with inbuilt wheels. Dimensions are 78" x 20" x 21" (L x H x W).
Characteristics:
water resistance for a fluid rowing motion
computer monitor with many data trackers
stainless steel and triple-bladed paddle
tank with a tough, polycarbonate shell
First Degree Fitness Viking 2 Fluid Rower
Resistance Type Of The Viking Fluid Rower
Just like the first Newport Club rowing machine, Viking 2 is a water rower. It's considered the industry best in emulating rowing motions the way it would feel on real water. This gives you a smooth workout that's progressive and feels very natural. You're getting a great total body workout.
Key Features Of The Rowing Machine
The Viking First Degree fitness rower is made out of American Ash that's ethically produced. The tank offers continuous resistance without any dead spots. It's almost maintenance-free and it's quite easy to assemble. The handles are ergonomically designed and the footplates are adjustable, just as the straps.
Multi-level Computer Monitor
Fluid Rower Viking 2 has a sleek computer monitor for measuring your progress. It measures time, distance, watts, strokes per minute and rough calorie expenditure during an hour. It also measures your heart rate and 500m split time. The computer monitor also comes with a USB port.
Adjustable Resistance For A Challenging Workout
The fluid resistance level can be adjusted with a dial. You can go from an easy resistance for beginners or cardio, to a very challenging level. The fluid rower can instantly adapt to all types of training. From progressive training to interval training. It adapts to different users as well.
Dimensions and Storage Capacities
You can store this First Degree rower with no problem in the upright position. It doesn't fold, you just flip it vertically. It also has rollers for easy transport so you can move it to any place you like and need when not using it. Dimensions of the assembled rower are 84" x 21" x 22" (L x H x V).
Characteristics:
high-quality American Ash frame
adjustable fluid resistance
monitor with many options and tracking values
no dead spots during rowing
smooth and natural rowing sensation
First Degree Fitness Fluid Rower E520
Heavy Duty Rowing Machine
This rowing machine is actually suitable for the commercial gym environment. But in case you want to give it a go, it can be a nice addition to your home gym. It also works with water resistance and the twin tank system can adjust the resistance for any exercise level.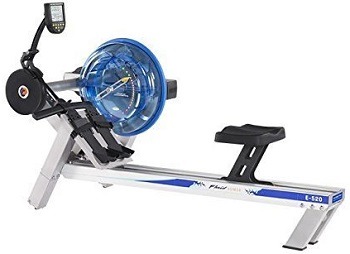 20 Levels Of Variable Fluid Resistance
This is patented variable fluid resistance with 20 levels. First Degree E520 fluid rower is truly suitable for everyone of any fitness level. You can go from a very easy level to a pretty challenging one, depending on your current fitness level.
Display Monitor And Data Tracking
The E520 rower has a so-called Interactive Performance Monitor, or short, IPM. The IPM tracks distance, speed, stroke rate, time, watts, calories per hour. It has a heart rate receiver that's compatible with all main heart rate tracking belts. There are also manual programs and the option of interval training.
Construction And Features
The seat is special because it's at office height so you easily get on and off of it. It has an ergonomic handle for a good grip and adjustable footplates. The frame is rigid and sturdy and of high quality. E520 rower also has a dual rail made out of anodized aluminum.
Dimensions And Other Specifications
Dimensions of this First Degree rower are 77" x 34" x 32" (L x H x W). It can support up to 330lbs of weight, so it's good for a wide range of exercisers. The belt drive is durable and doesn't need any maintenance. It's also quiet and performs a smooth motion. You can also store it upright like the previous two First Degree fitness rower models.
Characteristics:
commercial quality fluid rower
can support any exercisers no matter the fitness level
variable water resistance patent
First Degree Fitness Pacific Challenge Rower AR
Main Features Of The Rower
The machine rower has a very comfortable seat that runs on precision bearings and rollers. That makes the movement much smoother and safer. The belt drive is durable and also very quiet. It's also maintenance-free. The seat rail is also made out of anodized aluminum like the previous models.
Four Resistance Levels
The Pacific Challenge AR water rower has 4 types of resistance levels. It's the same technology as the E520, but on a smaller scale. When you turn the dial, you can go from min to max and adjust the resistance to suit your needs and wants. You can challenge yourself this way or just take it easy.
Tank Of The Pacific Challenge Rower
The water resistance tank has an impeller made out of three blades. The tank is made to give you resistance during the entire duration of the stroke. This makes for a very intense workout that works for all your muscle groups. It also gives you an authentic feel of actual rowing on the water.
Computer Display For Tracking
There is a multilevel computer that also has a USB port. You can connect it to some fitness apps and track your progress. The monitor displays distance, time, 500m split time, heart rate, calories per hour, watts and strokes per minute. As you can see, you can track a great range of physiological changes.
Other Specifications and Dimensions
The First Degree Pacific Rower has a sturdy and solid construction. That makes it perfect for home gyms, but also durable. The assembly is very easy and quick so you don't have to worry about that. Dimensions are 77" x 20" x 21" (L x H x W) and it can support up to 300lbs. You can also store it upright.
Characteristics:
four water resistance levels
authentic rowing on the water feel
frame is sturdy with a solid construction
great range of data tracking
First Degree Fitness Neptune Challenge AR Rower
Variable Water Resistance
The Neptune Challenge rower gives you a very natural catch and feels of the real deal. You almost feel like you're rowing on actual water. The entire stroke has a consistent resistance because of patented adjustable resistance. You can train and strengthen your entire body and work on your cardiovascular fitness at the same time.
Neptune Challenge Rower Features
First Degree Fitness made this fluid rower with a comfortable seat and ergonomically designed handlebar. You can row comfortably and have a firm grip on the handlebar without slipping. You can pivot the footplates in case you are less flexible. It makes your rowing experience more efficient and comfortable.
Performance Monitor For Tracking
The computer monitor displays time, strokes per minute, rough calories estimate, stroke count and tempo signal. The monitor is large with a clear display. It's specifically designed to motivate you and so you can monitor all the important physiological variables.
Compact Neptune Water Rower
This rowing machine was designed to take as little space as possible while still being a powerful fluid rower. It functions well within small spaces so you don't have to worry about where will you place and then store it later. While being this compact, it gives you a great workout.
Easy Storage And Dimensions
You can turn the fluid rower upright and just move it on the built-in wheels to the right place. It's not foldable, but this is also a good alternative and doesn't take up that much space. The maximum user weight the rowing machine can support is 300lbs. Its dimensions are 78" x 20" x 21" (L x H x W).
Characteristics:
compact water rower
ergonomically designed parts
Replacement Parts and Accessories
While under warranty, all replacement parts will be supplied to you by First Degree Fitness. In case you can't find the part you need, try to search it online, such as on the Amazon website. You can also find all sorts of different workout accessories for the rowers on the First Degree Fitness Amazon website.
Conclusion: Why Should You Buy These Best First Degree Fitness Rower Models?
Newport and Viking fluid rower models are quality rowers that give you a great workout. The E520 one was made by First Degree Fitness as a heavy-duty rowing machine. Pacific was made as a lighter alternative and Neptune as a compact First Degree rower.
If you're interested in cheap rowing machines, we wrote an article about best value rowing machine models. We also wrote about a water rower for sale. In case you want to find out more about rowing machines, you can read about them in the best rated rowing machine models article.