Best 4 Wooden Rowing Machines & Workout In 2022 Reviews
If you're looking for a wooden rowing machine, this article is for you!
I review 4 wooden rowers in this article and write about their specifications and main features. I mention everything you need to know so you can decide which rowing machine is the right one for you. I also mention everything else you need to know so this decision will be easier.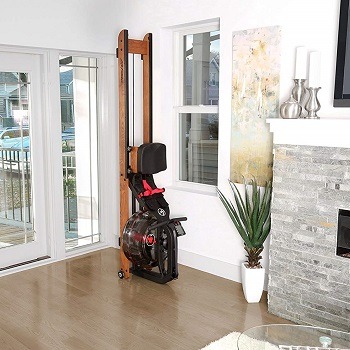 What Do You Need To Know Before Buying A Wooden Water Rower?
Why Should You Buy A Wooden Exercise Machine?
A wooden rower is not just functional but also beautiful. These are high-quality rowers made out of the best wood that absorbs vibrations and sound. They can usually withstand a pretty heavy user weight and are very durable and will last you for many years.
Wooden Rowing Machine Benefits
A rowing machine offers many physical benefits, but also some mental benefits too. Some exercisers say that when they are using a wooden water rower, they think the sound of water is soothing and meditative. With that, you also strengthen every muscle group in your body and also get a serious cardio workout.
Price Range Of The Wooden Water Rowing Machines
The wood used for building these machines is of high quality and so the rowers are pretty expensive. The most affordable of the rowers is the Valor model from Pure Design Fitness. So if you're thinking about buying a wooden rower but want something budget-friendly, this could be the right one for you.
Where To Buy These Wooden Rower Models?
Each of the rowing machines has its own company website where you can buy them. An alternative to that are some online retail sites, like Amazon which I recommend. You can get discounts on a regular basis and you can also compare prices directly on there. You can also see what other user reviews are saying.
What Types Of Wooden Exercise Machines Exist?
There are 4 types of rowing machines in general: water, air, hydraulic and magnetic resistance rowers. The wooden machines that I review here are all water resistance ones. They combine the quiet resistance with the stability and durability of real wood. They give you the feel of real rowing on water with natural materials.
Best 4 Wooden Rowing Machines
Best Wooden Rowing Machine
First Degree Fitness Apollo Pro II Rowing Machine
Twin Tank System And Water Resistance
First Degree rowing machine has a patented adjustable resistance system where it uses a dual tank technology. You can adjust the resistance with a dial and then water from one water chamber goes into the primary chamber with water paddles. This creates stronger resistance that you can feel.
LCD Performance Monitor
The computer display of this wooden rowing machine shows you elapsed time, distance rowed and calories burned per hour. It also shows you strokes per minute, 500m split, watts, and your heart rate. All in all, it's an easily readable monitor that shows you all the important metrics.
Quality BuildFrom Solid Wood
The Apollo Pro II model has a frame head made out of steel while the side rails are built from American Ashwood that's sustainably harvested. The quality wood rails give you many years of durability and are tough enough to withstand years of intense workouts. The maximum user weight that it can support is 330lbs.
Transport And Ergonomic Design
It's very easy to transport this rowing machine. While Apollo Pro II can't be folded, it can be turned vertically so it saves space. The rollers on the bottom make it easier to move.  Assembled dimensions are 84'' L x 21'' W x 21'' H and the handle is designed ergonomically so it prevents hand strain.
Warranty Period For The First Degree Rower
The warranty you get with this product is the full commercial one since the manufacturer is very confident about the quality of the product. The frame has 10 full years and the tank with seals has a 3-year warranty. All the mechanical components get 2 years while every other type of component has 1 year.
Why Buy This Product:
4 levels of adjustable water resistance
patented twin tank technology
built from solid American Ashwood
long commercial warranty
easy transport and storage
Best Water Wooden Rower
WaterrowerNatural Rowing Machine
Water Resistance Changes With Your Efforts
This Waterrower Natural rower model has a water tank with propellers suspended in it which creates resistance. The paddles have to displace water in front of them and the rowing stroke is smooth and quiet. The resistance levels depend entirely on you: the faster you row, the more resistance you feel.
Series 4 Performance Monitor
This Waterrowerwooden water rower is equipped with a state-of-the-art performance monitor. It shows you basic metrics like distance rowed and workout intensity, but the monitor has so many more advanced features. It's a small and versatile computer monitor that helps you track everything important.
Solid Ash Wood Build
The Natural model is handcrafted from solid Ash wood that's harvested sustainably. It's grown in replenishable forests and is stained in honey oak color. The wood has amazing engineering properties by absorbing the sound and vibrations you make. It can carry up to 1000lbs because of its strong build.
Handy Storage And Comfortable Design
The frame of this wooden water rowing machine can be flipped upward for its space-saving design part. You can maneuver it on wheels that are built-in on the bottom of the rower. Its dual rails make the comfortable seat glide with each rowing stroke and the handlebar is designed so your hands won't hurt.
Warranty Period Of The Waterrower
The warranty seems really short but there is a catch: you have to upgrade it to a longer period. You get a 1-year warranty for the structural frame and all the other parts upon purchasing it. But if you register the product online on the Waterrower website, you get 5 years on the frame and 3 years on parts.
Why Buy This Product:
quiet and smooth water rowing experience
durable solid Ash wood build
top-notch Series 4 performance monitor
Best Portable Wooden Rowing Machine
Life Fitness Row HX Trainer
Four Levels Of Water Resistance
The water tank system is a dual one in the case of the HX Trainer and gives you 4 levels of resistance. When you turn the resistance to a minimum, the water goes from the main tank with pedals and makes the resistance lighter. This way you can progress with your workouts and challenge yourself.
Easily Readable Performance Monitor
The performance monitor of this Life Fitness rowing machine is large and easily readable. It tracks and shows you the most important metrics you need to know so you can progress in your workouts. You don't get a heart rate monitor strap included with your rower so you have to buy that separately.
Natural Wood Design And Stability
The dual rails and the frame of this wooden rower are made with a combination of natural wood and steel. This makes this rowing machine very durable, stable and will be able to withstand even your most challenging workouts. Because of its design, it can carry up to 330lbs of maximum user weight.
Compact Design And Built For Comfort
The rowing machine can be turned upright and takes up less than 7 feet in height while in this position. It can be moved easily on the rollers and it's compact enough for easy storage. The seat is comfortable and the footpads can be adjusted to your size so you're comfortable and secure while rowing.
Warranty Period Of The Row HX Trainer
Every part of this wooden rowing machine has its own different warranty period. So the structural frame has a good warranty that lasts 5 years while the tank and seals have a 3-year warranty. Mechanical parts get 2 years while the performance monitor and labor have a 1-year warranty.
Why Buy This Product:
4 adjustable water resistance levels
the dual water tank system
good warranty period
combination of natural wood and steel build
Best Home Wooden Rowing Machine
Pure Design Fitness Valor Rowing Machine
Water Resistance With Variable Levels
The Valor wooden rowing machine has many resistance levels and they all depend on your effort. If you want to feel more resistance, the drag that is created when you row faster is what will give you that. If in turn, you want to feel less resistance, ease up on your rowing intensity.
VR2 Performance Monitor For Tracking Metrics
Every important metric you need tracked can be done so on the Pure Design Fitness monitor. It has two workout programs, distance interval, and time interval while also tracking other statistics. It tracks distance rowed, speed, watts, estimated caloric burn and 200-meter split.
Minimalist Design And Quality Build
The minimalist design requires little maintenance with a steel frame and dual rails made out of Beechwood. The rails have a coating of quality Danish Oil on them and the main assembly has a powder coat finish that's very durable. The maximum weight it can support on its sturdy frame is 325lbs.
Easy Storage And Compact Design
While not a foldable wooden water rowing machine, it can be stored on end and save much of space. It's very compact when in the vertical storage position, all you have to think about is the height of your ceiling. The seat is ergonomically designed and is built for comfort during those low periods of rowing.
Warranty Period Of The Valor Rower
The warranty you get with the Pure Design Fitness rowing machine is residential and is pretty solid. The frame gets a 5-year warranty when the Pure Design repairs all your malfunctions at their own cost. The water tank has 3 years while all the other components and parts get a 1-year warranty.
Why Buy This Product:
variable water resistance levels
minimalist design with low maintenance
Beechwood dual rails for stability
VR2 high-quality performance monitor
compact while in storage position
Conclusion: Which Two Best Wooden Rowing Machine Models Should You Buy?
The Waterrower Natural Rowing Machine and the First Degree Apollo Pro II are in my opinion the best wooden rowing machine models currently available on the market. The Waterrower Natural has a solid Ash wood construction. And Apollo Pro II has a solid wood build and adjustable 4-level resistance.
If you want to find out more about which rowers are budget-friendly, we wrote an article about best value rowing machine models. We also wrote about compact rowing machine models. And if you want to know more about water rowers, we have the best water rowing machine model article for you.