Best 5 CrossFit Rowing Machines You Can Find In 2022 Reviews
Are you looking to buy a CrossFit rowing machine?
Then you've come to the right place!
In this article, I review 5 best CrossFit rowers and I mention their price range and where to buy them. I write in-depth about their features, design, and functionality so you can compare the models. And so you can decide which model to buy, I write about anything else you need to know to make an informed purchase.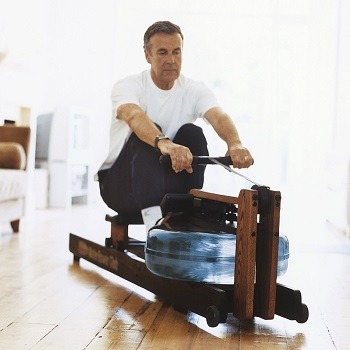 Things To Know When Buying A CrossFit Rowing Machine
Why Add A Rower To Your CrossFit Training?
A rower is basically a multi-functional exercise machine that works on your cardio fitness. And not just that, it also works on strengthening all your major muscle groups in an effective way. So this way, you can work on both important fitness goals using only one exercise machine.
Which Are The Best Rowers For CrossFit?
Usually, the best rowers are air rowers or water rowers. Air rowers give you an intense workout and a strong rowing motion. Water rowers mimic rowing on the water and can be quite challenging. Magnetic only rowers can sometimes have a resistance that's too light for CrossFit workouts.
Price Range Of Exercise Machines For CrossFit
Most of the reviewed products in this article are pretty expensive and fall into the high end price-wise. But there is also the most affordable option out of them that won't break the bank. That's the Stamina ATS Air Rower which gives you an intense workout even though the price is low.
Where To Find CrossFit Rowers For Sale?
Each rower's company has its own website where they sell them. But they are also available on some online retail sites like Amazon. I recommend Amazon because they offer great discounts on the regular. You can also compare prices directly on the website and see what other reviews are saying.
What To Look For In A Rowing Machine?
It's important to look for the type of resistance because that is what will challenge you. The build and stability of the frame are important since you'll be doing intense workouts. The machine has to be sturdy enough for that and you might find that mostly in rowers built for commercial purposes.
Best 5 CrossFit Rowing Machine Models
Best Commercial CrossFit Rowing Machine
Concept2 Model D Indoor Rowing Machine
Air Resistance Exercise Rower
Model D is an air resistance rowing machine with a fan flywheel that takes in air and creates resistance. It's not that quiet while you're using it because air rowers tend to be noisy. You don't have resistance levels here, because you create your own difficulty level through the intensity of your rowing.
State-Of-The-Art Performance Monitor
Concept2 CrossFit rower has a very advanced PM5 performance monitor so you can track all your metrics. It shows you the basic metrics like time and distance rowed, calories, watts and so much more. But it also has a ton of really varied options to customize your workout for you.
Designed For Comfortable Workouts
The seat of the Concept2 Model D rower is padded and contoured so you will be comfortable on your long workouts too. The rowing chain is made out of nickel and has to be oiled every 40 hours of use for maintenance. The handle is designed ergonomically and is covered in rubber.
Storage Options And Construction Quality
The Model D has a large footprint but it can be pulled apart so it's space-saving and easy to store. The dimensions of the rowing machine while in use are 96'' L x 24'' W x 44'' H. It's a durable and very sturdy machine that will withstand even your toughest workouts. The maximum user capacity is 500lbs.
Warranty Period For The Rowing Machine
The Concept2 rower for CrossFit has a good warranty with 5 years on the frame portion. This includes front and rear legs, footplates, seat frame, and flywheel axle and bearings. It has a 2-year warranty on all the other components. The warranty can also be transferred if you ever decide to sell the rower.
Characteristics:
air resistance mimics rowing on water
advanced performance monitor for tracking data
ergonomic design for comfortable exercise
easy to pull apart for storage
strong and sturdy frame construction
Best Wooden CrossFit Rowing Machine
WaterRower Club Rowing Machine
Water For Rowing Resistance
The WaterRower Club model uses water to create resistance, in principle similar to air rowers. It uses paddles suspended in the water tank that must displace water in front of them. You create your level of resistance through your rowing speed. There is also the option of adding or subtracting water to adjust resistance.
Series 4 Performance Monitor
WaterRower Series 4 Performance Monitor is an advanced monitor that tracks your metrics. It monitors time, intensity, distance, watts, strokes per minute and 500m split time. But each of these data points has additional information that can be tracked and personalized for a great workout.
Hardwood Construction And Specifications
The WaterRower Club is handcrafted from solid Ash wood and is stained for color. The wood was chosen because it's known to absorb vibrations and sound. It's suitable as a commercial rower because of its resistant and strong build. It can also carry up to 1000lbs because of its engineering.
Storage Options And Comfort
While you can't fold the WaterRower Club rowing machine, you can just flip it upright. The rower is a bit heavy with the full water tank but you won't even notice. When you get it to stand vertically, you can wheel it on built-in rollers to wherever you need. The dimensions of the rower while in use are 83'' L x 24'' W x 21'' H.
Warranty Period Of The Waterrower
The initial warranty period is for one year on the frame and all the components. But the good news is you can upgrade that warranty if you register the rower online on the official website. This way you get to upgrade the frame to a 5-year warranty and the parts to 3 years.
Characteristics:
smooth water rowing workout
premium quality build frame
easy storage when you turn it vertically
Best Water CrossFit Rower
First Degree Fitness Apollo Pro II Rower
Four Level Variable Water Resistance
The patented variable water resistance means this rower comes with a dual-chamber water tank. This is an innovative design that lets you adjust your resistance with a dial. When you turn the dial to max or 4, the water from the first chamber gets into the second where the paddles are and increase resistance.
Large Performance Monitor For Tracking Stats
This First Degree Fitness rowing machine has a large and easily readable monitor. It tracks all the important stats like time elapsed, distance rowed, strokes per minute and watts. It also monitors the number of calories burned per hour, 500m split and heart rate.
Construction Quality And Capacity
This rower is a commercial grade rower perfect for gyms and it's perfect for intense CrossFit workouts. It's made from sustainably harvested American Ashwood that makes this rower very stable and durable. The head frame is made out of steel and the maximum weight capacity is 330lbs.
Upright Storage And Comfortable Design
You can store the rowing machine vertically so it takes up the minimum amount of space. For the transport, there are rollers on the front of the rower that help you move it into place. The dimensions of this rower are 84'' L x 21'' W x 21'' H. It has an ergonomic design that will make your long workouts comfortable.
Warranty Period Of The Apollo Pro II
The Apollo Pro II rowing machine has a great commercial warranty that lasts for 10 years on the frame. With that, you get a 3-year warranty on the tank and all the seals and a 2-year on all the mechanical components. All the other components have a 1-year warranty period.
Characteristics:
commercial grade water rower
strong and durable construction
can withstand the most intense workouts
great warranty period on the entire machine
easy upright storage and transport
Best Foldable CrossFit Rowing Machine
Lifecore R100 Commercial Rowing Machine
Dual Magnetic And Air Resistance
This CrossFit rowing machine has dual resistance type, combining air and magnets. While air gives you a strong rowing motion, the magnetic side makes the air rower have resistance levels. In this case, you can choose between up to 16 levels of magnetic resistance in addition to the base of air resistance.
Blue Backlit Performance Monitor
The Lifecore100 comes with a large monitor that's blue-backlit so it's easily readable. It monitors all the important metrics such as strokes per minute, elapsed time and watts. It also has some advanced features, such as creating up to 4 different user profiles. This rower also comes with a free heart rate monitoring chest strap.
Construction Quality And Specifications
This is a commercial-grade rowing machine that has a fan-made of solid steel. The frame is solid and stable and very durable and made out of aluminum and it can carry up to 600lbs. The seat and handlebar are ergonomically designed for maximum comfort during your workouts.
Foldable Design And Easy Storage
This rower is very easy to fold by unscrewing the knob that's located underneath. The rail then folds towards the flywheel vertically and saves a lot of space. After that, you can move the rower with no problems with the dual caster rollers. The dimensions of the rowing machine are 92'' L x 19'' W x 36'' H.
Warranty Period For Lifecore100 Rower
The Lifecore100 rowing machine has an excellent lifetime warranty on the frame. The components have a 5-year warranty while the labor warranty is 1-year. That's residential type, but if you need this rower for commercial purposes, the warranty is a little shorter.
Characteristics:
dual air and magnetic resistance
large and easily readable monitor
commercial-grade frame quality
lifetime residential warranty on the frame
Best Cheap CrossFit Rowing Machine
Stamina ATS Air Rower 1403
Air For Resistance
The Stamina Air Rower is a budget-friendly air rower that gives you a total body workout and a great cardio exercise. The resistance is once again all up to you: if you want more resistance, row harder to create it. In case you want less, ease up on the rowing. This rower gives you great rowing on water feel.
LCD Workout Monitor For Tracking Metrics
There is a basic monitor on this CrossFit rower for sale that tracks every important metric. It monitors data such as your speed, distance rowed, the time elapsed and an estimated caloric burn. The monitor is fairly large and easy to read so you can easily see everything and advance in your workouts.
Construction Quality And Comfort
The seat rail is made out of chrome and also oversized, which makes it suitable for taller people too. The maximum weight capacity is 250lbs. The seat is padded and upholstered so you're comfortable during your workouts. The handlebar is padded too and the rower also has adjustable footplates.
Foldable Design And Transport Wheels
The Stamina ATS Air Rower can be easily folded so it saves space for storage. You remove two pins and then fold the fan flywheel part back unto the seat rail. Afterward, you put the pins back and store it. The rower has wheels for easy transport and its dimensions are 78'' L x 19'' W x 31'' H.
Warranty Period Of The Stamina ATS Rower
When you buy the rowing machine, you have to register it online on the official Stamina webpage. This way you can initiate the warranty period that encompasses 3 years on the frame. It also has a warranty on the parts that's 3 months so it's pretty adequate for a rower of this price range.
Characteristics:
budget-friendly rowing machine
simple and easily readable performance monitor
foldable design for easy storage
ergonomic design for comfortable workouts
powerful air resistance
Conclusion: Which 2 Best CrossFit Rowing Machine Models Should You Buy?
Concept2 Model D and Lifecore R100 are in my opinion the best CrossFit rowing machine models currently on the market. Concept2 Model D is a commercial-grade air resistance rower that will suit all your toughest workouts. Lifecore R100 is another commercial rowing machine, equally durable and strong.
If you want to know more about water rowers, we have an article about the best water rowing machine models. We also wrote about best rated rowing machine models. And if you want to read more about affordable exercise rowers, you can read about them in the cheap rowing machine for sale article.