Best 5 Hydraulic Rowing Machines & Workout In 2022 Reviews
If you're looking for a hydraulic rowing machine, this is the article for you!
I have a review of 5 best hydraulic machine models currently on the market. I write about everything you need to know so you can easily decide which exercise machine is for you. I mention specifications, main features, details about the rowers and more.
What You Need To Know Before Buying A Hydraulic Rower
Why Buy a Hydraulic Exercise Rower?
Rowers with hydraulic resistance are very quiet but powerful enough to work out every major muscle group in your body. They are usually pretty compact and space-saving and can be stored easily. The silent performance means you can use it at any time of the day without disturbing anyone.
Hydraulic Rowing Machine Benefits
Some hydraulic rowers use two pistons to create resistance. This means you can exercise each arm at a separate resistance level. This type of resistance gives you a great workout that's guaranteed to get your heart rate up. It also targets all your major muscle groups and strengthens them.
What Is The Price Range Of The Rowers?
The most expensive hydraulic rower on this list is the Kettler Kadett Outrigger rowing machine. The rest of the rowing machines are in the mid-range with the most affordable being the Stamina Body Trac Glider. The hydraulic exercise machines are usually among the most budget-friendly ones.
Where to Buy Hydraulic Resistance Machines?
Every rowing machine from this review is available on the website that each rower has. With the exception of ProGear, that's available on Amazon. I recommend Amazon for checking the other models too because you can compare prices directly on there. They also have discounts on the regular.
Hydraulic Rowing Machine Workout Principle
The rowing machines that have hydraulic resistance have one or two hydraulic pistons that contain hydraulic fluid. When you set the resistance higher, the opening between chambers in the piston gets smaller. This makes it difficult for the fluid to go through, thus creating higher resistance and vice versa.
5 Best Hydraulic Rowing Machine Models
Best Quiet Hydraulic Rowing Machine
Kettler Kadett Outrigger Rowing Machine
Twelve Resistance Levels And Two Pistons
This Kettler rowing machine has two hydraulic pistons, one on each rowing arm, and 12 resistance levels. You can find the ideal resistance level that will challenge you enough with the turn of the knob. You can even work out each of your arms separately because of the dual pistons.
High-Resolution Performance Monitor
Kettler Kadett has a multi-functional LCD display that shows you the most important metrics. It monitors elapsed time, distance rowed and a rough estimate of burned calories. It also shows you strokes, frequency, and pulse rate. You get an earlobe clip pulse monitoring device with the rower.
Designed For Comfort During Workouts
This rowing machine has a padded seat for maximum comfort during your workouts. It also glides on sealed ball bearings and that provides you with a smooth rowing motion. It also has biomechanically correct footpads that enable you to perform a proper rowing motion with your whole body.
Compact Rowing Machine For Easy Storage
You can easily store this rowing machine after you fold in the rowing arms so it's easier. The Kettler exercise machine is already very compact by itself and pretty lightweight. You can pick it up and move it wherever you like. The dimensions of the rower while in use are 59'' L x 20'' W x 18'' H.
Steel Build And Warranty Period
The rower has a very strong frame build-out of high-carbon steel and is very sturdy and durable. Kettler is so sure of its top-notch steel frame that they offer a lifetime warranty on it! All the other components have a 3-year warranty which is also solid for this type of machine.
Why Buy This Product:
12 hydraulic resistance levels
easy to store and compact
lifetime warranty for the frame
comfortable design for the supporting parts
Best Cheap Hydraulic Rowing Machine
Stamina Body Trac Glider 1050
Twelve Different Levels Of Resistance
The Body Trac Glider has only one hydraulic piston and 12 resistance levels to choose from. It's pretty user-friendly for exercisers of all fitness levels. You can do just cardio on low settings or you can up the resistance and do an intense strength training. You can work your whole body on this rower.
Easy To Read LCD Performance Monitor
The Stamina rowing machine is equipped with a performance monitor that displays every important workout metric. It tracks your workout time, how many calories you have burned, stroke count and accumulated stroke count. The monitor is pretty basic but easy to read and use.
Comfortable Design For Long Workouts
The seat of this hydraulic rower is molded and sufficiently padded to be comfortable during exercise. The handlebar on each rowing arm is foam padded so your hands won't hurt. And the footpads are textured so you don't slip and they also have an adjustable strap.
Easy Storage And Easy Transport
This exercise machine is one of the lightest with under 40lbs. That's why it's so easy to just pick it up and move to where you want it to be. You can even fold the arms if they are in the way so you can store the rower more easily. The dimensions of the Stamina Body Trac are 50'' L x 12'' W x 10'' H.
Construction Quality And Warranty Period
The Stamina rower is pretty sturdy with a steel built frame and can withstand even your toughest workouts. Even though it's very lightweight, the frame is solid and sturdy. Warranty on the frame is 1 year and the components have a 90-day warranty.
Why Buy This Product:
lightweight design for easy storage
padded seat and handlebars
12 hydraulic resistance settings
Easy to read LCD monitor display
solid and sturdy frame
Best Home Hydraulic Rowing Machine
ProGear 750 Rowing Machine
Two Hydraulic Cylinders For Resistance
The ProGear 750 has two hydraulic cylinders, one on each arm. With 3 resistance levels, you can work out each arm separately at the level that's appropriate for you. While there are only 3 resistance levels, the rower gives you plenty of exercise for your entire body. It's also good for cardio exercise.
LCD Performance Monitor For Metrics
The ProGear rowing machine has an LCD display that shows you and tracks important data. It monitors elapsed time, rep count, calories burned and total rep. It also has the scan option where the metrics are shown on the loop interchangeably one after the other. That way you can see everything during your workout.
Adjustable Rowing Positions And Specifications
You can choose between 3 rowing positions that are pretty easy to adjust. They can accommodate different exercisers' heights depending on the incline you choose. The seat is large and comfortable and the pedals are anti-slip. The chrome slide rail can support up to 220lbs.
Compact Design That's Easy To Fold
This ProGear 750 doesn't take much space, to begin with, similar to most hydraulic rowing machines. But you can collapse the back support so it's even more compact and you can store it with no problem. The dimensions of the rower when in use are 53'' L x 26'' W x 36'' H.
Warranty Period And Versatility
You can use the rower to perform over 10 different exercises. You can do shoulder presses, rows, pull-downs, ab exercises and many more. The warranty period of the structural frame is 1 year only, while all the other components get 90 days. It's a solid warranty for this affordable rowing machine.
Why Buy This Product:
3 different rowing positions
can be used for many exercises
compact rowing machine for easy storage
Best Portable Hydraulic Rowing Machine
Sunny Health & Fitness RW5639
Twelve Levels Of Hydraulic Resistance
The quiet hydraulic resistance offers 12 levels of difficulty to challenge all your muscles. It's suitable for users with different fitness levels and all ages. The Sunny Full Motion rower has one cylinder that is sure to make your heart pumping and that will give you a challenging workout.
Digital Performance Monitor For Data Tracking
The monitor on Sunny Health And Fitness Full Motion rowing machine is pretty basic. But it shows you all the important metrics like elapsed time, count, burned calories and total count. It also has the "scan" option that cycles through each of the functions one after the other.
Full Rowing Motion And Comfort
You can perform the full motion of the arms while rowing which burns more calories and strengthens your muscles. This rower is built for comfortable workouts: the seat is fully padded. Not only that, but the handlebars shave a non-slip grip and the foot pedals won't make you slip either.

Compact Design And Folding Arms
This hydraulic rower doesn't have any folding options but it's compact enough that you can store it easily. The only thing you can fold is the full motion rowing arms. This makes it easier to store vertically against a wall or under the bed. The dimensions of this rower are 51'' L x 24'' W x 14'' H.
Warranty Period And Construction Quality
The structural frame has a warranty period of 3 years which is comparable to other rowers in this price range. Parts have a 90-day warranty. The Full Motion Rowing Machine has a solid steel frame that is durable and has a great weight capacity. The maximum user weight it can support is 350lbs.
Why Buy This Product:
12 levels of hydraulic-piston resistance
sturdy frame that supports up to 350lbs
compact design for easy storage
good LCD monitor for data tracking
full rowing motion can be performed
Best Compact Hydraulic Rowing Machine
Kettler Favorit Rowing Machine
Fifty Resistance Levels To Really Challenge You
This hydraulic rower has 50 knurl marks on each row arm so you can adjust the resistance level. It's a pretty big selection of levels, from the lightest if you're a beginner, are warming up or just need light cardio. And if you want to be challenged you can work out every major muscle group in your body.
Multi-Functional LCD Performance Monitor
The monitor shows you all 6 functions at the same time and tracks all that's important to you. And so it monitors elapsed time, distance rowed, calories burned, strokes, frequency and pulse rate. It also has a recovery mode so you can measure how good your cardio wellness is, on a scale from 1 to 6.
Designed and Built For Comfort
The seat is thick and padded so you can row comfortably for longer periods of time. It glides on sealed ball bearings in a very smooth motion. The pedals are biomechanically correct and offer a pivoting motion that mimics actual rowing on water. You also get an earlobe sensor for measuring your pulse.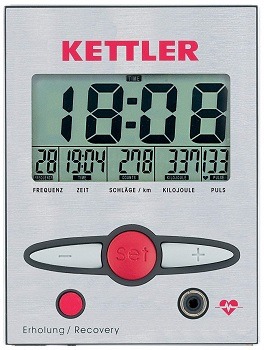 Compact Exercise Machine And Dimensions
This hydraulic rower is already compact enough so you don't have to do much else to store it. You can additionally just loosen and fold the rowing arms so they are not in the way and store it. The dimensions of the exercise machine, while it's in use, are 52'' L x 32'' W x 10'' H.
Warranty Period and Construction Quality
Kettler believes in their products and so this rower has a lifetime frame warranty. Other components have a 3-year warranty. The frame is made out of high-carbon steel and is very tough, while the whole rower gives you stability. The maximum weight it can support is 285lbs.
Why Buy This Product:
50 hydraulic resistance levels
lifetime warranty on the frame
multi-functional performance monitor
Conclusion: Which Two Best Hydraulic Exercise Rower Models Should You Buy
Kettler Favorit and Sunny RW5639 are in my opinion, the best hydraulic rowing machine models currently on the market. Kettler Favorit has 50 resistance levels and a lifetime warranty on its strong and resilient frame. Sunny RW5639 enables you to perform the full rowing motion with your arms for maximum strength building.
If you want to know more about quiet rowers, we wrote about them here in the best quiet rowing machine models article. We also have an article on compact rowing machine models. And if you're interested in affordable rowing machines, we have an article on best value rowing machine models.