Best 2 Sole Rowing Machines On The Market In 2022 Reviews
Are you interested in buying a Sole rowing machine?
If the answer is yes, then you should read this article!
Here I will review two Sole rowing machines that are currently available on the market. I will compare the features of each rowing machine, their specifications and everything you need to know to buy the best rower for you. So read on to find out more!
Sole Rowing Machine Brand
Brand Behind Sole Rowing Machines
The Sole Brand has been one of the fastest-growing brands in the last five years. They are supplying hotel chains with powerful and high-quality exercise equipment. They also made that same equipment available to everyone. The Sole Brand is also manufacturing ellipticals, treadmills and exercise bikes.
The Price Range Of Sole Rowing Machines
The price range is very much in the expensive part, and for a reason. They are often reviewed as best rated rowing machines due to their high quality and durability. The rowers also have strong features that give you an intense workout and they are quite worth the price.
Where Can You Buy Sole Rowers?
These home rowing machines are available on the Sole website, but also through online retailers such as Amazon. I really recommend the Amazon option, because of the ability to compare prices. That way, you can choose the right rower for you. They are also offering discounts on the regular.
How Is Customer Service?
The Sole Company values its customers and their customer service is excellent because of that. If you need any help, you can call them on the phone, send them an email or just fill out a form on the Sole website. They will respond quickly because they take their customers seriously.
Lifetime Warranty And Excellent Service
The manufacturer offers a lifetime warranty, and the coverage is even for the wear and tear that happens naturally as you use the machine. The bad news is, it only covers the frame. Parts and electronics are 1-3 years only. If you need warranty work, just call their service center.
Best 2 Sole Rowing Machines Review
Sole SR500 Rower For High-Intensity Workouts
Resistance Type Of The Sole Rower
The Sole SR500 rower uses a combination of air and magnetic resistance for an intense workout. It does not quite mimic rowing on water, mostly because of the magnetic resistance which makes rowing harder. Rowing is a little noisy though, because of the air resistance and the speed of rowing.
Sixteen Levels Of Resistance
There are 16 levels of resistance and as you progress, the rower adds more magnetic resistance. This way, you can find the perfect resistance level for your needs. If you want endurance training and great cardio, set lower levels. If you need a good strength workout, go towards higher numbers of levels.
Build Quality And Dimensions
The Sole SR500 rowing machine has a frame made out of steel and a seat rail made out of aluminum. This home rower is sturdy and high quality, like most Sole exercise machines. Dimensions of the assembled rower are 94in x 46in x 18in (L x H x W). The weight capacity is up to 515lbs.
Monitor And A Variety Of Functions
The Sole SR500 rower has a blue backlit LCD monitor that offers a variety of features. So you can measure strokes per minute, 500m time, total strokes and total time, distance, speed, calories, and pulse. You can also adjust the resistance through wireless technology. That way you can easily change to desired settings in the middle of a workout.
Storing The Foldable Rowing Machine
After you are done with your workout, you can easily fold the rower and wheel it away on the built-in wheels. The whole process takes just a few seconds. To accomplish this, just turn and pull down the knob and then fold the rail with the seat up. And then you just secure the knob again and done!
Specifications:
high-quality materials and durable
easy storage because it is foldable
16 resistance levels to choose from
wide variety of tracking your progress
Sole SR400 Rower As An Affordable Rower
More Affordable Version Of SR500
If you are looking for the best affordable rowing machine, Sole SR400 rower might be it. It is designed to be comfortable and reliable to use. I have to note here that although the frame has a lifetime warranty, parts and electronics only have a 1-year warranty, unlike SR500 which has 3.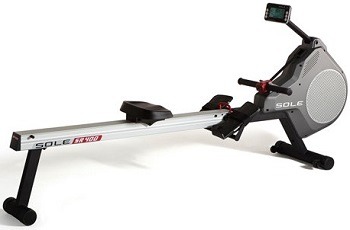 Resistance Type And Levels Of The Rower
Resistance type is also a combination of air and magnetic, for a workout that is similar to real water rowing, but not quite. Sole SR400 rowing machine shares the number of resistance levels with its more expensive cousin. Some buyers say the resistance is very weak, but you can still use it for cardio.
Materials And Overall Quality Of SR400
The frame is made out of aluminum which is quite less reliable than steel. The quality is poor and it cannot handle much strain. It has adjustable pedals that are designed for a variety of heel angles. Overall, the quality is much poorer than the pricier SR500 rower.
Monitor With Various Features And Workout Programs
Sole SR400 rower has an LCD monitor and features such as stroke, pulse, time, distance, calories, and watts (power output during exercise). It has 14 workout programs, so there is plenty to choose from. On this rower, you can also make a wireless adjustment to your level of working out without ever stopping the workout itself.
Dimensions And Storage Of The Rower
This is also a foldable rowing machine that is easy to store and the folding itself takes only mere seconds. It has wheels that help you maneuver it into place. Dimension are 94in x 46in x 18in (L x H x W). But this rower can only support up to 300lbs.
Specifications:
more affordable version of the SR500
easily foldable and easy to store
Replacement Parts And Accessories For The Rowers
All replacement parts can be purchased through their website after filling out an online form. There is a variety of accessories for these home rowing machines. One way is to get them from the Sole website. But you can also find all of them on Amazon.
Conclusion: Why Should You Buy A Sole Rowing Machine?
The Sole SR500 rowing machine is a high quality, powerful rower that will last for years. The steel frame ensures years of use while the air-magnetic resistance gives a challenging workout. For an affordable alternative, there is the SR400 version.
If you want to know more about best value rowing machines, click here for best foldable rowing machine models. You can also find out more about water resistance rowing machines. We also have this best rowing machine post if you want to find out more about the best rower on the market.